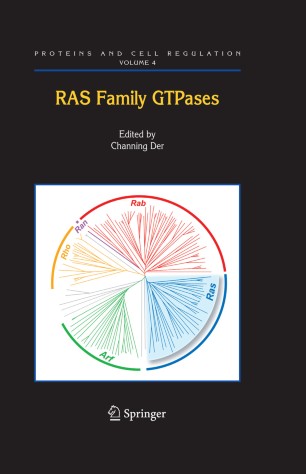 About this book
Introduction
Since 1982, Ras proteins have been the subject of intense research investigation by the
biomedical research community. The wide interest in Ras has been stimulated for
three key reasons.
First, their frequent mutational activation in human cancers establishes Ras proteins
as important mediators of oncogenesis and targets for anti-cancer drug discovery.
Second, Ras proteins act as signalling nodes activated by diverse extracellular
stimuli, and activated Ras in turn regulates a diversity of cytoplasmic signalling
networks.
Third, Ras proteins are founding members of a large superfamily of Ras-related small
GTPases. Over 150 Ras-related small GTPases are found in the human genome, with
orthologs found in all vertebrate species and invertebrates.
This book features chapters by leading investigators in the field that highlight the
current state-of-the art in Ras biochemistry, structure and biology.
This book is an excellent reference for students in the biomedical sciences and for
investigators in the field.
Keywords
Activation
Endoplasmatisches Reticulum
biochemistry
cells
influence
proteins
saccharomyces cerevisiae
Bibliographic information