The Palgrave Handbook of Gender, Sexuality, and Canadian Politics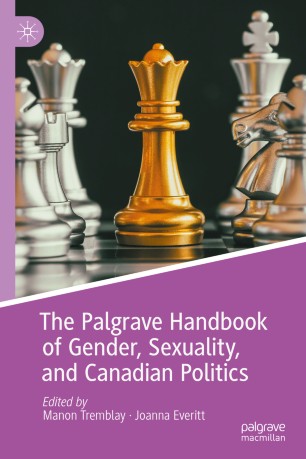 About this book
Introduction
The Palgrave Handbook of Gender, Sexuality, and Canadian Politics offers the first and only handbook in the field of Canadian politics that uses 'gender' (which it interprets broadly, as inclusive of sex, sexualities, and other intersecting identities) as its category of analysis. Its premise is that political actors' identities frame how Canadian politics is thought, told, and done; in turn, Canadian politics, as a set of ideas, state institutions and decision-making processes, and civil society mobilizations, does and redoes gender. Following the standard structure of mainstream introductory Canadian politics textbooks, this handbook is divided into four sections (ideologies, institutions, civil society, and public policy) each of which contains several chapters on topics commonly taught in Canadian politics classes. The originality of the handbook lies in its approach: each chapter reviews the basics of a given topic from the perspective of gendered/sexualized and other intersectional identities. Such an approach makes the handbook the only one of its kind in Canadian Politics.

Manon Tremblay
is Professor in the School of Political Studies at the University of Ottawa, Canada.
Joanna Everitt is Professor of Political Science at the University of New Brunswick in Saint John, Canada.
Keywords
LGBTQ studies
Canadian Politics
Gender and Politics
Intersectional Politics
Identity Politics
Feminism
Gender inclusion
Gender norms
Gender
Sexuality
Liberalism
Sexualities
Feminism
Social Democracy
Indigenous Nationalism
Indigenous women
Colonialism
Sexism
Sexual Orientation
Public Policy
Bibliographic information