Sustainable Biotechnology
Sources of Renewable Energy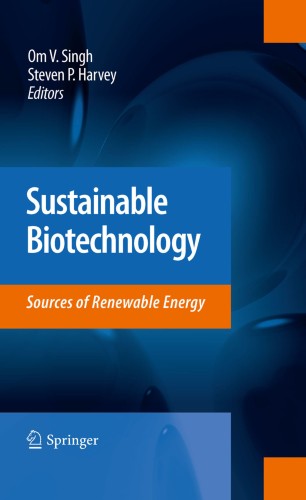 About this book
Introduction
Nature offers abundant renewable resources that can be used to replace fossil fuels but issues of cost, technology readiness levels, and compatibility with existing distribution networks remain. Cellulosic ethanol and biodiesel are the most immediately obvious target fuels, with hydrogen, methane and butanol as other potentially viable products.
Sustainable Biotechnology; Sources of Renewable Energy draws on the vast body of knowledge about renewable resources for biofuel research, with the aim to bridge the technology gap and focus on critical aspects of lignocellulosic biomolecules and the respective mechanisms regulating their bioconversion to liquid fuels and other value-added products . This book is a collection of outstanding research reports and reviews elucidating several broad-ranging areas of progress and challenges in the utilization of sustainable resources of renewable energy, especially in biofuels.
This ground-breaking book comes just at a time when governments and industries are accelerating their efforts in the exploration of alternative energy resources, with expectations of the establishment of long-term sustainable alternatives to petroleum-based liquid fuels. Apart from liquid fuel this book also emphasizes the use of sustainable resources for value-added products, which may help in revitalizing the biotechnology industry at a broader scale. This book offers scientists and graduate students involved in biofuel research, biotechnology and pharmaceutical industries, a comprehensive review of the basic literature and advanced research methodologies of this exciting field..
Keywords
Biobutanol
Biofuels
Fermentation
Transport
biodiesel
bioenergy
biofuel
biogas
biotechnology
Bibliographic information