South-South Cooperation Beyond the Myths
Rising Donors, New Aid Practices?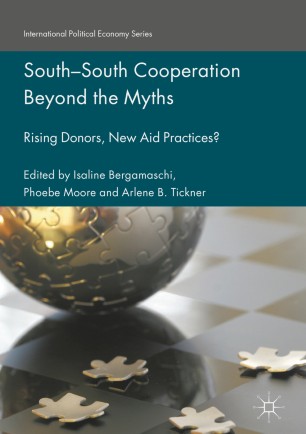 Table of contents
About this book
Introduction
This book, which brings together scholars from the developed and developing world, explores one of the most salient features of contemporary international relations: South-South cooperation. It builds on existing empirical evidence and offers a comparative analytical framework to critically analyse the aid policies and programmes of ten rising donors from the global South. Amongst these are several BRICS (Brazil, India, China and South Africa) but also a number of less studied countries, including Cuba, Venezuela, the United Arab Emirates, Colombia, Turkey, and Korea. The chapters trace the ideas, identities and actors that shape contemporary South-South cooperation, and also explore potential differences and points of convergence with traditional North-South aid. This thought-provoking edited collection will appeal to students and scholars of international relations, international political economy, development, economics, area studies and business.
Endorsements:
'This edited volume is a welcome contribution to the critical understanding of South-South cooperation in international politics. The chapters are written by an impressive group of scholars from both the North and the South with extensive knowledge of development cooperation mechanisms. It will most certainly become required reading for scholars, students and practitioners eager to understand trends in development cooperation.'
- Monica Herz, Pontifical Catholic University of Rio de Janeiro, Brazil
'This collection is a valuable corrective to stereotypical analyses of South-South cooperation. Bergamaschi, Moore and Tickner have assembled a first-rate set of chapters by an outstanding group of experts deeply engaged in the reassessment of the conceptualization and operation of cooperation strategies. Filled with important actor-based and issue-oriented insights from a diverse range of fascinating case studies, the volume deserves a wide readership from scholars, students and practitioners.'
- Andrew F. Cooper, University of Waterloo, Canada
Keywords
BRICs
International Political Economy
Cuba
Venezuela
United Arab Emirates
Colombia
Turkey
South Korea
Bibliographic information