Abstract
In the absence of randomized prospective trials, the EBMT registry remains an important source to survey indications, outcome and clinical risk factors in patients with solid tumours treated by auto- and allo-HSCT.
92.1

Introduction

In the absence of randomized prospective trials, the EBMT registry remains an important source to survey indications, outcome and clinical risk factors in patients with solid tumours treated by auto- and allo-HSCT. In early 2018, the EBMT registry includes 57,888 transplant procedures in 42,106 patients, with a slight prevalence in adults compared with children (58% vs. 42%). Auto-HSCT represents 97% of the total HSCT, whereas allo-HSCT was used in 3% of the procedures. Multiple transplants were performed in 1/3 of the cases (Table

92.1

). More than 10,000 transplants were performed in the last 5 years (Passweg et al.

2018

). Figures

92.1

and

92.2

compare activity and indications between adults and children.

Table 92.1

EBMT registry on HSCT for solid tumours (data updated on January 2018)
Solid tumour registry

57,025

Patients

40,593

Adults/pediatric (%)

58/42

Male/female (%)

48/52

Auto/allo (%)

97/3

Nb of HSCT

Auto (n = 55,240)

Allo (n = 1755)

First HSCT

40,412

1173

Second HSCT

10,144

440

Third HSCT

3589

100

Fourth HSCT

651

27

≥ Fifth HSCT

194

9

Median follow up (year < 2016)

2.4 (<1 to 35)

1.95 (<1 to 31)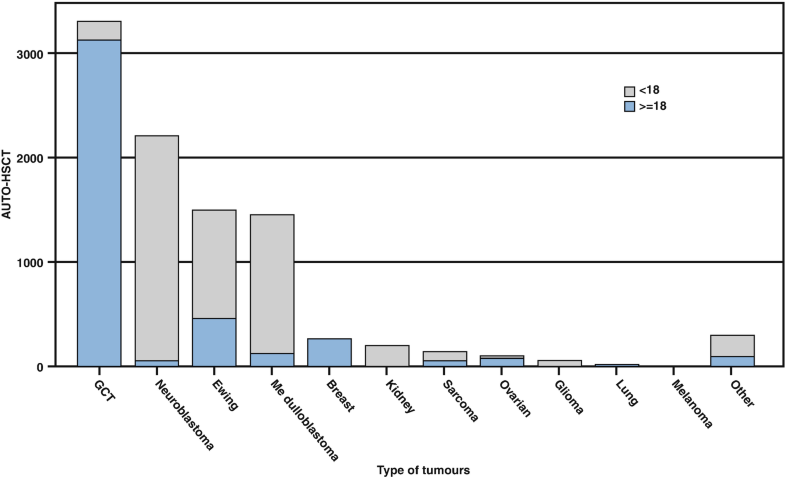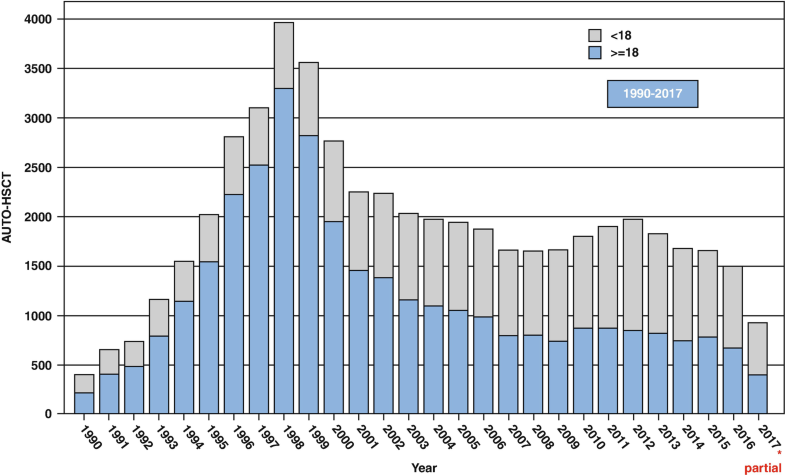 92.2

Solid Tumours in Children and Adolescents
92.3

Solid Tumours in Adults
92.3.1

Auto-HSCT

Supported by a strong rationale from laboratory studies and apparently "convincing" results of early phase II studies, in the 1990s auto-HSCT was uncritically adopted as a potentially curative option for solid tumours. For this reason, randomized trials comparing high-dose therapy with conventional control arm were difficult to conduct. As a result, the number and size of clinical studies initiated (and often abandoned before completion) to prove or disprove its value were largely insufficient. Nowadays, after 25 years of clinical research and thousands of patients receiving auto-HSCT, the benefit of autotransplant in solid tumours, with the possible exception of selected patients with breast cancer (BC) and germ cell tumours (GCTs), is still unsettled (Fig. 92.1) (Sureda et al. 2015).
92.3.1.1

Breast Cancer (BC)

The role of auto-HSCT for primary breast cancer at high risk of recurrence (at least four involved axillary lymph nodes) has been assessed by several randomized trials, recently evaluated by a meta-analysis of individual patient data (Berry et al. 2011; Pedrazzoli et al. 2015). Overall, it was shown that auto-HSCT prolonged DFS when used as adjuvant therapy and showed a benefit on BC-specific survival and OS in selected cohorts of patients (Nitz et al. 2005; Pedrazzoli et al. 2015).

Whether auto-HSCT has benefit in the context of contemporary taxane-based regimens and targeted therapies is largely unknown. Seven phase III studies have been published in peer-reviewed journals. Most of these trials showed improved PFS in the auto-HSCT arm but only one OS advantage. Six randomized trials, including 866 metastatic breast cancer (MBC) patients, have been analysed in the parallel meta-analysis of individual patient data (Berry et al. 2011) showing a significant improvement in PFS but no improvement in OS.

Overall, based on the randomized studies so far, meta-analyses and retrospective studies, auto-HSCT may still represent a therapeutic option for younger patients harbouring HER2-negative tumours and having gross involvement of axillary nodes (adjuvant setting) or highly chemosensitive disease (advanced setting) (Martino et al. 2016).
92.3.1.2

Germ Cell Tumours (GCTs)

Auto-HSCT is not recommended as first-line therapy in GCT. In relapsed GCT high-dose therapy is considered a therapeutic option, especially when poor prognostic factors are present (Lorch et al. 2011; Necchi et al. 2015; De Giorgi et al. 2017a; b). A randomized study (Tiger study) comparing conventional-dose therapy with high-dose therapy is ongoing. Auto-HSCT is a standard of care for patients that are (primary) refractory to platinum-based chemotherapy or for those with a second or further relapse (Necchi et al. 2015). Multiple intensified cycles with CBP/VP are recommended as the standard HDT for GCT also due to concerns that using a three-drug regimen would require dose reductions of the two most active drugs in this disease.

Furthermore, auto-HSCT can be safely administered in high-risk patients older than 45 years. However, since the prognosis is poorer for older patients with non-seminoma histology, a comprehensive risk-benefit evaluation should include co-morbidities and the patient's risk category.

The assessment of a large series of EBMT centres, including 46 cases with pure seminoma, seems to support the notion that auto-HSCT may represent a valuable therapeutic option after standard-dose chemotherapy failure in this patient category (Necchi et al. 2017).

EBMT conducted a retrospective analysis on 29 patients with refractory gestational trophoblastic neoplasia (GTN) treated with auto-HSCT. Data showed that HDT based on CBP seems to be active in this heavily pretreated patient population and that auto-HSCT represents a possible option for patients with refractory GNT (Necchi et al. 2016).

The role of auto-HSCT in mediastinal non-seminoma (MnS) GCT disease category is under evaluation. Data from EBMT confirmed that the MnS was characterized by the poorest outcome with 5-year OS ranging from 40% to 45%. The use of auto-HSCT as both early intensification and at disease recurrence proved to be effective, given upfront, and may produce a 15–20% absolute improvement in survival compared with standard-dose CT.
92.3.1.3

Soft Tissue Sarcoma (STS)

STS accounts for about 1% of adult cancers. Based on the observation of a dose-response correlation for some drugs used in STS, e.g. DOX and IFO, HDT with auto-HSCT has been investigated in some, mostly non-randomized phase II trials. Most of these trials found few patients to possibly benefit from auto-HSCT but, owing to the small patient numbers of each of the included histologic subgroups, could not establish robust markers for identifying these patients. A recent meta-analysis on this subject found no evidence for a benefit of auto-HSCT but, again, did not sufficiently report on outcomes in the different histologic subgroups. However, taking into account that the current WHO classification differentiates more than 50 histological subtypes of STS, it might be hypothesized that clinical response to auto-HSCT may vary significantly from different histological varieties.
92.3.1.4

Other Solid Tumours

Data from randomized phase III studies comparing HDT vs. conventional-dose chemotherapy for first-line treatment of advanced ovarian cancer and limited or extensive small cell lung cancer have shown no statistically significant difference in PFS or OS. Limitations due to study design, difficulty in recruitment and toxicity may have accounted for the lack of favourable results that were expected based on previous phase II and retrospective analyses of such highly chemosensitive diseases.

In other chemosensitive histologies, including sarcomas and CNS tumours, data regarding auto-HSCT in adult patients are limited, again based on clinical trials without randomization and retrospective analyses. For this reason, auto-HSCT cannot be recommended as standard of care. High-dose therapy can be regarded as a potential clinical option in selected patients with Ewing's sarcoma and medulloblastoma.
92.3.2

Allo-HSCT

Immune therapy for cancer is being pursued with extraordinary interest by researchers all over the world, given the recent scientific acquisitions on immune mechanisms that control cancer and the introduction in the marketplace of checkpoint inhibitor molecules, such as nivolumab/pembrolizumab (PD-1/PDL-1 inhibitors), ipilimumab (anti-CTLA4), etc. The paradigm for immune therapy of cancer is allo-HSCT, whose therapeutic effect is carried out by immunocompetent T cells of the donor, an effect known as GvT or graft-versus-tumour effect. Several studies of allo-HSCT in selected solid tumours, namely, renal cell cancer (RCC), ovarian cancer, BC, colorectal cancer and others, with some evidence of GvT and occurrence of transplant-related toxicities, mostly GvHD have been reported. In RCC, a long-term survival effect in a fraction (20%) of patients was documented. Since 2004, when molecularly targeted drugs were introduced into the clinic for renal cell cancer, patient referral for transplant dropped precipitously, and transplant rate evaluation for solid tumours from 2009 was limited to a few patients in Europe.

A recent survey provided a picture of the status of allo-HSCT for solid tumours in EBMT centres (Bregni et al. 2016). In contrast to our expectations, allo-HSCT for solid tumour indications has not been abandoned, even if its use has been markedly reduced. Based on these findings, allograft for solid tumours as adoptive immunotherapy is still being used in EBMT centres, in a few institutions and in a few selected indications, thus confirming the willingness of several centres to share data, adopt common protocols and continue to use this strategy in highly selected cases.
92.3.2.1

Renal Cell Cancer

There is no clinical experience of allografting in RCC, that is, TKI and mTOR refractory; nowadays, allo-HSCT should be considered only in the context of prospective studies.
92.3.2.2

Soft Tissues Sarcomas

The use of allo-HSCT has been investigated in paediatric sarcoma and rhabdomyosarcoma. Original data on allo-HSCT in adult STS is rare and stems from small case series (Sureda et al. 2015). In 2007, a retrospective study of the EBMT investigated the use of reduced-conditioning allo-HSCT in 14 STS patients. The authors concluded that an immune-mediated effect might have contributed to tumour control in some patients. Interestingly, the low number of patients examined did not permit a histotype-stratified analysis.
Key Points
The benefit of auto-HSCT in solid tumours of the adults, with the possible exception of selected patients with breast cancer and germ cell tumours, is still unsettled.

Despite the great potential, cell therapy programmes for cancer control still have a marginal role in the management of patients with solid tumours. This issue should be regarded as a priority for medical oncology and cell therapy/transplantation societies, also in view of the recent development of immune checkpoint inhibitors that represent a major breakthrough in cancer treatment and may well be incorporated in cell therapy programmes.

The story of HSCT in solid tumours demonstrates the importance of adopting an internationally co-ordinated approach to the investigation of this treatment modality. There needs to be an increased emphasis on prospective trials that are statistically robust and have well-defined criteria for patient selection. Only these will be able to demonstrate whether HSCT, alone or incorporated into programmes with novel therapeutic modalities, is worthwhile in patients for whom conventional treatments have often limited impact on survival.
Copyright information
© EBMT and the Author(s) 2019
Open Access  This chapter is licensed under the terms of the Creative Commons Attribution 4.0 International License (http://creativecommons.org/licenses/by/4.0/), which permits use, sharing, adaptation, distribution and reproduction in any medium or format, as long as you give appropriate credit to the original author(s) and the source, provide a link to the Creative Commons license and indicate if changes were made.
The images or other third party material in this chapter are included in the chapter's Creative Commons license, unless indicated otherwise in a credit line to the material. If material is not included in the chapter's Creative Commons license and your intended use is not permitted by statutory regulation or exceeds the permitted use, you will need to obtain permission directly from the copyright holder.