Modeling Reaction Mechanism of Cocaine Hydrolysis and Rational Drug Design for Therapeutic Treatment of Cocaine Abuse
Part of the Topics in Heterocyclic Chemistry book series (TOPICS, volume 4)
Abstract
Cocaine is a widely abused heterocyclic drug and there is no available anti-cocaine therapeutic. The disastrous medical and social consequences of cocaine addiction have made the development of an effective pharmacological treatment a high priority. An ideal anti-cocaine medication would accelerate cocaine metabolism producing biologically inactive metabolites. The main metabolic pathway of cocaine in the body is hydrolysis at its benzoyl ester group. State-of-the-art molecular modeling of the reaction mechanism for the hydrolysis of cocaine and the mechanism-based design of anti-cocaine therapeutics will be discussed. First of all, competing reaction pathways and the transition state stabilization of the spontaneous hydrolysis of cocaine in solution will be examined. It will be demonstrated that the information obtained about the transition states and their stabilization has been very useful in the rational design of stable analogs of the transition states of cocaine hydrolysis, in order to elicit anti-cocaine catalytic antibodies. Detailed molecular modeling of the reaction mechanism for cocaine hydrolysis catalyzed by human butyrylcholinesterase (BChE), the primary cocaine-metabolizing enzyme in body, will be examined. Then, we will describe the application of these mechanistic insights to the rational design of human BChE mutants as a new therapeutic treatment of cocaine abuse. Finally, future directions of the mechanism-based design of anti-cocaine therapeutics will be discussed.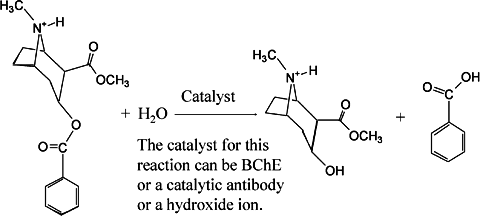 Cocaine 
Hydrolysis mechanism 
Transition-state simulation 
Rational enzyme redesign 
Catalytic antibody 
Abbreviations
ACh

Acetylcholine

AChE

Acetylcholinesterase

BCh

Butyrylcholine

BChE

Butyrylcholinesterase

QM

Quantum mechanics

MM

Molecular mechanics

QM/MM

Quantum mechanics/molecular mechanics

MD

Molecular dynamics

BE

Benzoylecgonine

EME

Ecgonine methyl ester

CNS

Central nervous system

PET

Positron emission tomography

BAC2

Base-catalyzed, acyl-oxygen cleavage, bimolecular

IRC

Intrinsic reaction coordinate

TSA

Transition state analog

TS

Transition state

TS1

Transition state for the first reaction step

TS2

Transition state for the second reaction step

TS3

Transition state for the third reaction step

TS4

Transition state for the fourth reaction step

INT

Intermediate

INT1

First intermediate

INT2

Second intermediate

INT3

Third intermediate

ES

Prereactive enzyme–substrate complex

SCRF

Self-consistent reaction field

SVPE

Surface and volume polarization for electrostatic interactions

FPCM

Fully polarizable continuum model

PCM

Polarizable continuum model

HBR

Hydrogen-bonded reactant complex

NPA

Natural population analysis

HBE

Hydrogen bonding energy

3D

Three-dimensional

ZPVE

Zero-point vibration energy
Notes
Acknowledgments
The financial support from the National Institute on Drug Abuse (NIDA) of the National Institutes of Health (NIH) (grant R01 DA013930) is gratefully acknowledged.