Structural Information and Drug–Enzyme Interaction of the Non-Nucleoside Reverse Transcriptase Inhibitors Based on Computational Chemistry Approaches
Part of the Topics in Heterocyclic Chemistry book series (TOPICS, volume 4)
Abstract
Non-nucleoside reverse transcriptase inhibitors, such as nevirapine, TIBO, HEPT, and efavirenz, are very specific to HIV-1 reverse transcriptase and have few side effects compared to NRTIs. However, mutation of the HIV-1 virus has caused drug resistance to develop and reduce the efficiency of these inhibitors for drug therapy. As the association of NNRTIs with the binding pocket of the enzyme is essential for the inhibition process, this interaction is of high interest. Potential energy surface is used for conformational analysis of these flexible NNRTIs. The interactions between the inhibitor molecules and the surrounding amino acids are the key to determining the binding affinity. Much work has been done by using the 3D-QSAR method, with detailed molecular structural analysis of HIV-1 inhibitors by theoretical calculations, including enzyme–inhibitor interactions. Accurate calculations of detailed interactions are demonstrated by multilayered integration or ONIOM method to give some insight into the particular interaction of the NNRTIs with the residues in the binding site. In addition, molecular dynamics simulations, Monte-Carlo simulations and protein-based inhibitor design methods have been applied extensively on these inhibitors. This review is an attempt to combine various QSAR and CAMD methods on NNRTIs into a common prediction model to support the design of new, more potent inhibitors, in particular, active against mutant enzyme prior to synthesis.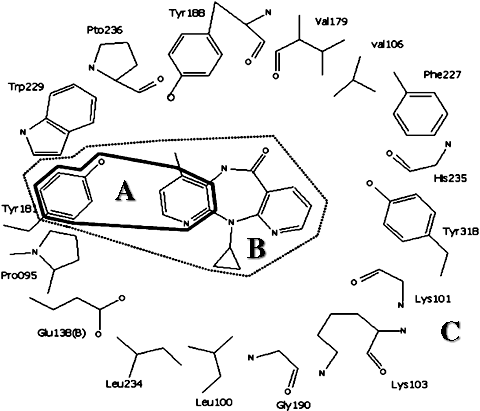 Drug-enzyme interaction 
Molecular simulations 
Non-nucleoside  reverse transcriptase inhibitor 
ONIOM 
Quantum chemical calculations 
Abbreviations
α-APA

(+/ −)-2,6-Dichloro-α-[(2-acetyl-5-methylphenyl)amino]benzamide

2D, 3D

Two dimensional, three dimensional

2D-QSAR

Two-dimensional quantitative structure–activity relationships

3D-QSAR

Three-dimensional quantitative structure–activity relationships

8-Cl TIBO

8-Chlorotetrahydroimidazo(4,5,1-jk)(1,4)-benzodiazepin-2(1H)-thione

9-Cl TIBO

9-Chloro-4,5,6,7-tetrahydro-5-methyl-6-(3-methyl-2-butenyl)imidazo(4,5,1-jk)(1,4)benzodiazepine-2-(1H)-thione

AIDS

Acquired immunodeficiency syndrome

AMBER

AMBER force field

ANN

Artificial neural network

Arg

Arginine

Asn

Asparagine

Asp

Aspartic acid

B3LYP

Beck's three-parameter exchange functional with Lee–Yang–Parr correlation

CAMD

Computer-aided molecular design

CC

Computational chemistry

cc-PVDZ

Correlation-consistent polarized valence double zeta

cc-PVTZ

Correlation-consistent polarized valence triple zeta

CoMFA

Comparative molecular field analysis

CoMSIA

Comparative molecular similarity indexes analysis

Cys

Cysteine

DFT

Density functional theory

DMA

N6-dimethylallyl

DNA

Deoxyribonucleic acid

dNTP

Deoxynucleotide triphosphate

EC50

Median effective concentration

FEP

Free energy perturbation

GIAO

Gauge-independent atomic orbital

Glu

Glutamic acid

Gly

Glycine

HEPT

1-[(2-Hydroxyethoxy)methyl]-6-(phenylthio)thymine

HF

Hartree–Fock theory

His

Histidine

HIV-1

Human immunodeficiency virus type 1

HQSAR

Hologram quantitative structure–activity relationships

IC50

Median inhibitory concentration

IMOMO

Integrated molecular orbital molecular mechanics

Ile

Isoleucine

Leu

Leucine

Lys

Lysine

MC

Monte Carlo

MD

Molecular dynamics

MM3

Molecular mechanics, Allinger force field version 3

MP2

Second-order Møller–Plesset perturbation theory

MT-4

Human membrane type-4

NMR

Nuclear magnetic resonance

NNRTIs

Non-nucleoside reverse transcriptase inhibitors

NRTIs

Nucleoside reverse transcriptase inhibitors

ONIOM

Our own N-layered integrated molecular orbital and molecular mechanics method

p51

Peptide having molecular weight 51 kDA

p66

Peptide having molecular weight 66 kDA

PASs

Pyrrolyl aryl sulfones

PDBS

Pharmacophore-based database searching

PES

Potential energy surface

PETT

Phenylethylthiazolylthiourea

Phe

Phenylalanine

PM3

Modified neglect of diatomic overlap, parametric method number 3

Pro

Proline

QC

Quantum chemistry

QM/MM

Quantum mechanics and molecular mechanics

QM/QM

Quantum mechanics and quantum mechanics

QSAR

Quantitative structure–activity relationships

RCSB PDB

Research Collaboratory for Structural Bioinformatics (RCSB), the non-profit consortium that manages the Protein Data Bank (PDB)

RNA

Ribonucleic acid

RNaseH

Ribonuclease H

RT

Reverse transcriptase

SEAL

Steric and electrostatic alignment

Ser

Serine

SI

Selectivity index

SMD

Steered molecular dynamics

SMF

Substructural molecular fragments

SOM

Self-organizing map

TCs

Thiocarbamates

Thr

Threonine

TIBO

S-(+)-4,5,6,7-Tetrahydro-5-methyl-6-(3-methyl-2-butenyl)-imidazo[4,5,1-jk][1,4]-benzodiazepin-2-(1H)-thione

Trp

Tryptophan

Tyr

Tyrosine

UFF

Universal force field

Val

Valine

WT

Wild type
Notes
Acknowledgments
The author thanks Prof. Gupta for his encouragement in writing this review and Prof. Wolschann for many useful suggestions. Financial support from the Thailand Research Fund (BRG4780007) and National Research Council of Thailand (1.AU 49/2547), Postgraduates on Education and Research on Petroleum and Petrochemical Technology and KURDI are gratefully acknowledged. Thanks are due to Patchareenart Saparpakorn for excellent assistance in preparation of the manuscript and to W.J. Holzschuh for reading the manuscript.