Abstract
Calcium channel blockers (CCBs) have potential therapeutic uses against several cardiovascular and non-cardiovascular diseases. For vasospastic angina, CCBs have been found to be the most effective drugs. These drugs selectively inhibit Ca 2+ influx into heart muscles by blocking slow inward channels for Ca2+ or inhibit Ca2+ influx into vascular smooth muscles. The result is negative inotropism of smooth muscle relaxation, which is translated into hypotension. The three principal structural classes have been found to act as potent calcium channel blockers and they are phenylalkylamines, 1,4-dihydropyridines (DHPs), and benzothiazepines. Recently, a few more classes of CCBs have been studied. This article presents a comprehensive review on quantitative structure-activity relationship (QSAR) studies on all kinds of CCBs. These QSAR studies highlight the essential structural features and physicochemical properties that the compounds should possess to act as potential CCBs and vividly describe the mechanism of interaction of CCBs with the calcium channel.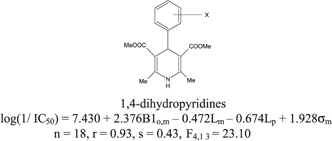 Calcium channel blockers 
Quantitative structure-activity relationship 
Phenylalkylamines 
1,4-Dihydropyridines 
Benzothiazepines 
Verapamil 
Nifedipine 
Diltiazem 
Dihydropyrimidines 
Phenylsulfonylindolizines 
Abbreviations
CCBs

calcium channel blockers

CoMFA

comparative molecular field analysis

DHPs

1,4-dihydropyridines

QSAR

quantitative structure-activity relationship

SAR

structure-activity relationship
Notes
Acknowledgments
The essential financial assistance for this work provided by our own organization is thankfully acknowledged.