"This is not a Landscape": Circulating Reference and Land Shaping
Abstract
A look at a definition of landscape in an ordinary dictionary reveals that landscape can mean both a representation of a scene (pictorial scenery) and that which might be thus represented, as when "a portion of territory that can be viewed at one time from one place" is represented in a painting of, for example, "natural inland scenery" or as "a particular area of activity: SCENE":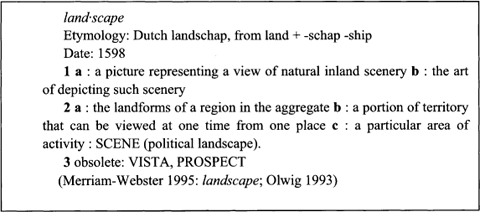 Landscape is thus both a form of representation and something that is represented. This raises issues, I will argue, concerning the historical and present day character of the interrelationship between the representation and that represented.
Keywords
Cultural Landscape 
Common Land 
Landscape Research 
Cultural Geography 
Representative Body 
These keywords were added by machine and not by the authors. This process is experimental and the keywords may be updated as the learning algorithm improves.
Copyright information
© Kluwer Academic Publishers 2004