Abstract
Conducting electrons in inorganic and organic matter interact with vibrating ions. If phonon frequencies are sufficiently low, the local deformation of ions, caused by the electron itself, creates a potential well, which traps the electron even in a perfect crystal lattice. This
self-trapping
phenomenon was predicted by Landau [
1
]. It was studied in greater detail by Pekar [
2
], Fröhlich [
3
], Feynman [
4
], Rashba [
5
], Devreese [
6
], and other authors in the effective mass approximation for the electron placed in a continuous polarizible medium, which leads to a so-called
large
or
continuous
polaron. Large-polaron wave functions and corresponding lattice distortions spread over many lattice constants (see
Fig. 8.1
). The trapping is never complete in the perfect lattice. Due to finite phonon frequencies, ion polarizations follow polaron motion if the motion is sufficiently slow. Hence, large polarons with a low kinetic energy propagate through the lattice as free electrons but with an enhanced effective mass.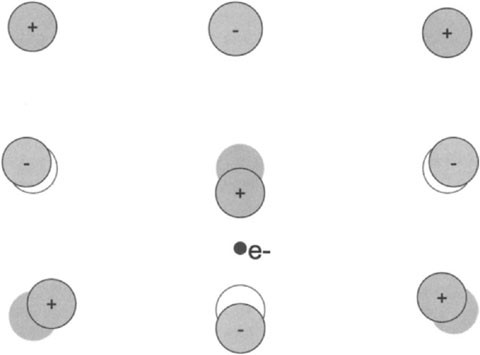 Keywords
Coulomb Repulsion 
Small Polaron 
Quantum Monte Carlo 
Effective Mass Approximation 
Large Polaron 
These keywords were added by machine and not by the authors. This process is experimental and the keywords may be updated as the learning algorithm improves.
Copyright information
© Springer Science+Business Media, LLC 2007