Abstract
The final chapter of this book offers tangible suggestions for ways that readers can positively transform the culture of their school to reduce the harms and increase the positive impacts mentioned in  Chapter 6. The chapter is divided into sections that speak specifically to the following groups of stakeholders: school administrators, teachers and school counselors, and community and family members. To assist each of these groups in undertaking the suggestions offered in the chapter, an extensive list of books, curricular materials, Websites, workshops, and other resources is included.
Keywords
Sexual Orientation 
Lesson Plan 
School Climate 
School Community 
School Board 
These keywords were added by machine and not by the authors. This process is experimental and the keywords may be updated as the learning algorithm improves.
7.1

Introduction

This book was written to help current and future educators, including school counselors and administrators to better understand issues of gender and sexual diversity in order to improve the way these issues are addressed in schools. As  Chapter 6 points out, there are many long-term negative impacts on all students and families when local schools allow persistent and systemic homophobia, sexism, heterosexism, and transphobia to pervade classrooms, hallways, gyms, and other learning environments. In order to help readers apply the concepts introduced in this volume to their specific professional contexts, this chapter presents specific approaches to transforming school cultures to be more inclusive of gender and sexual diversity.

As mentioned earlier, there are many factors that influence school culture and this chapter breaks down these multiple influences into subcategories that assist readers in assessing the needs of a specific school community and how best to address those needs. The discussion of how to read one's school culture is followed by a series of recommendations of tangible steps to take in order to transform these environments. The third section identifies potential challenges and sites of resistance to this work in schools and offers suggestions to surmount those challenges. Finally, this chapter concludes with a list of Web resources, books, and videos that can provide support to assist readers working to transform their school's culture.
7.2

Understanding School Cultures

In order to understand the multiple influences that shape how a school addresses and responds to issues related to sexual and gender diversity, I designed a theoretical model based on my research with teachers on these issues (Meyer,

2008a

). I have developed a diagram to illustrate this model that shows the various forces that influence school cultures and educators' roles in shaping it (Fig.

7.1

).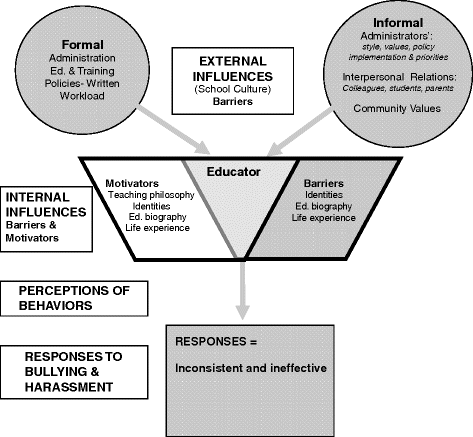 There are four tiers to this model that demonstrate the relationship between the main factors that influence how teachers perceive and respond to gender and sexual diversity in school: external influences, internal influences, perceptions of behaviors, and responses to behaviors. As the diagram shows, there are two categories of external influences (formal and informal) that get filtered through the teachers' internal influences (philosophy, identities, educational biography, and life experiences). This interaction of external and internal influences shapes their perceptions of and responses to student behaviors. The two categories that form the external influences are formal and informal.
7.2.1

External Influences

Formal influences are the most explicit of the external forces that help shape school cultures and include administrative structures, school policies, teacher education, and curriculum, and workload demands. These factors interact with informal influences to shape educators' experiences of the school culture. Informal influences include the accepted norms and values in the school community and are absorbed from superiors (administration), peers (colleagues), students, and families/community members.

In my research, the informal influence of administrators was significant in impacting how and when teachers chose to intervene in incidents of gendered harassment. This administrative influence included several aspects of school leadership that went beyond policy and job description and included administrators' style, personal values, professional priorities, and policy implementation. In other words, the way in which principals and vice-principals chose to lead their school had possibly greater impact than the stated policies and procedures of the school and school district. This was communicated through the choices principals make about how to spend professional development time, what policies to highlight and enforce, what teachers and students to recognize and reward, and how others might be singled out and informally "punished" with difficult schedules, extra surveillance, or undesirable assignments. Other aspects of the informal school culture that impact students' and teachers' experiences included colleagues' approaches to teaching and enforcing rules as well as the values embraced and endorsed by the student body and the surrounding community that were prevalent in the school. The interaction between the external influences and internal influences can explain the wide variety of perceptions of and responses to gender and sexual diversity issues by educators.

Both external and internal influences present barriers and motivators to educators' efforts to create schools that value diversity. These influences vary based on teachers' identities and experiences in their school cultures, but in most cases in this study, the barriers outweigh the motivators to take steps toward a positive transformation of school cultures. The teachers in my research reported that every aspect of these external influences communicated to them that sexism, homophobia, and transphobia were accepted and endorsed in their school communities, and proactive responses against these forms of bias were not supported. This imbalance creates a constant struggle for the educators who are trying to reduce such harmful behaviors in their classrooms and schools but face constant institutional resistance.
7.2.2

Institutional Resistance

The data collected in my study (Meyer, 2008a, 2009) and other related projects (Goodenow, Szalacha, & Westhimer, 2006; Greytak & Kosciw, 2008; Kosciw, Diaz, & Gretytak, 2008; Macgillivray, 2004; Perrotti & Westheimer, 2001; Stader & Graca, 2007; Thonemann, 1999) support three forms of resistance Britzman (2000) identified to addressing topics related to sexuality in schools: structural, pedagogical, and psychical. Research shows that external factors create a majority of the barriers to effective intervention in cases of gendered harassment. Both formal and informal structures work together to prevent effective education and responses to bias and silence around issues of sex, gender, and sexuality. The first form of resistance identified by Britzman is structural resistance, which she defines as "the very design or organization of education" (p. 34). Sources of structural resistance include administrators' style, policy implementation, and teacher workload demands. The second form of resistance Britzman identifies is pedagogical, which she breaks into two types: "one direction worries about Eros between students and teachers. Another direction considers sexuality as the secret of an individual's nature" (p. 34). Examples of such barriers include teacher education and training that is silent about gender and sexual diversity and state or provincial curricula that clearly exclude discussions about non-dominant genders and sexualities or do not explicitly create expectations or pedagogical support materials to teach inclusively about these issues.

The third form of resistance is psychical, which Britzman explains as "the conflict within" (p. 34). Psychical resistance is most commonly found in administrators' and other teachers' personal values that are often rooted in traditional cultural or religious notions about gender roles and sexuality. These personal belief systems validate and perpetuate the status quo. Conversely, the teachers in my study, and many others like them, have internal influences that encourage them to work through resistance, such as their educational biographies, personal identities, and teaching philosophies, that motivated them to do their best to challenge gendered harassment in spite of the many formal and informal barriers in their schools (Meyer, 2008a, 2008b). Educators' internal influences are strong factors that shape their practice in schools and can be powerful motivators to work through forms of external resistance. The next section addresses these influences.
7.2.3

Internal Influences

The teachers in my research all spoke of a deep awareness of and commitment to addressing incidents of bias in their classrooms. If teachers do not have educational biographies or teaching philosophies that help them gain an awareness of racism, sexism, transphobia, homophobia, and other forms of bias, they may have fewer internal motivators to induce them to intervene. Additionally, if teachers hold personal values that do not support equality rights based on sex, sexual orientation, and gender identity or expression then their internal influences would act as additional barriers to confronting acts of gendered harassment and reproduction of heteronormativity when they occur. It is for this reason that teacher education and school leadership programs must work to include a deeper understanding of all kinds of diversity and equity issues; especially those related to sex, gender, and sexuality so that they may increase their awareness of and attention to these issues in schools. In addition to preparing teachers to offer instruction in their subject areas, these programs must encourage educators to think critically and reflect on their own identities and biases in order to better prepare them for working in increasingly diverse school communities.

Through the process of listening to teachers talk about their experiences with gendered harassment in schools, it became clear that it would not be possible for them to teach inclusively on issues related gender and sexual diversity until a shift in the entire school culture occurred. They spoke about anti-gay jokes by their principals, sexual harassment perpetrated by their colleagues, and a general acceptance of sexist and homophobic language throughout the school.
7.3

Engaging the Whole School Community

While overt acts of discrimination are difficult for schools to ignore, daily acts of covert discrimination persist and impact students' lives in ways that many teachers and administrators fail to acknowledge. When bias against an identifiable social group is present throughout an institution, the entire school is implicated and the culture must shift. In order to transform ignorance of and intolerance for forms of sexual diversity, all stakeholders in the community must be involved in the process: students, families, teachers, administrators and school board personnel. The tone must be set by the leadership, but everyone must be engaged in changing the culture of the institution. In order to better identify what steps can be taken at each level, recommendations are provided for the following groups: administrators and school boards, teachers and support staff, students, parents, and community members.

For each one of these groups, change must first begin at the personal level. Before anyone can begin working collectively to improve school climates, all individuals must take responsibility for confronting their own biases and blind spots by actively educating themselves around issues that they may be under-informed or uncomfortable with. Such education can include reading books, searching information on the Internet, viewing films, or attending public lectures and workshops. It can also be extended to participating in interactive activities such as online discussion groups, graduate coursework, or joining or initiating a community group or task force to focus on these issues. Beyond the personal level, there are several institutional and community actions that also can be taken.
7.3.1

Administrators and School Boards

At the school leadership level, important changes must be made in three areas to set the tone for a positive and supportive school environment. These are policy, education, and resources and support. Without the institutional support provided by the following examples, the isolated efforts of overworked teachers, frustrated parents, and targeted young people will only have a small, short-term impact on the experiences of the students in the school community. In order to have a larger, more lasting effect on the school culture, systemic changes must be made.

Policy When drafting policies that address issues of discrimination and harassment in schools, a whole-school policy that includes clear, definite guidelines on actions that are bias-motivated, including response protocols and implementation strategies, is essential (Arora, 1994; Cartwright, 1995; Sharp & Smith, 1991; Whitney & Smith, 1993). Language must also be clear and consistent and include specific protections against harassment, violence, and discrimination based on sexual orientation and gender identity or expression (Goldstein, Collins, & Halder, 2005).

Education A policy will not be effective unless those expected to enforce it are made aware of their obligations, and community members are informed of the changes. Examples of such efforts include discussing the new policy in staff meetings, inviting a law expert to present a workshop on definitions of harassment and the school's duty in preventing it, creating study circles within the staff to examine the new policy and discuss implementation strategies, publishing information in school newsletters, Websites, and distributing brochures that include information about the new policy.

Resources and support The school district needs to allocate resources like time, money, and materials to ensure that these shifts in school climate can occur. Instead of hiring a one-time invited speaker, some school boards have created full-time positions in order to ensure that they have the expertise and knowledge readily available to support efforts in individual schools. In the state of Massachusetts (Perrotti & Westheimer, 2001) and the Toronto District School Board, several positions were created that were integral to the success of their programs, such as human sexuality program workers, equity department instructional leaders and student program workers (Goldstein et al., 2005). The institutional support offered by these various initiatives gives credibility and value to the daily efforts of individuals on the front lines.
7.3.2

Teachers and Support Staff

Teachers and support staff, such as bus drivers, cafeteria personnel, and lunchroom monitors, have the greatest opportunity to observe and intervene in incidents of discrimination and harassment in schools. Teachers and support staff can focus their development in the following areas: understanding of school policies, sharing and practicing tools for intervening in incidents of discrimination and harassment, and finding and using appropriate curricular materials and programs that are inclusive of gender and sexual diversity. These expectations mean that teachers and support staff will need to attend workshops and courses, and take some responsibility for their own professional development in addition to participating in the educational opportunities provided by the school administration. There are many resources available for these pursuits, some of which are listed in the reference list at the end of this chapter. Examples of curricular and extracurricular lessons and activities are presented in detail in

 

Chapter 4

. Some examples that can address some of the underlying issues of homophobia and heteronormativity include the following:
(1)

A campaign against name-calling that includes education about what words mean and why certain insults are inappropriate and discriminatory.

 

(2)

Curricular inclusion of contributions by gays, lesbians, bisexuals, and transgender people to history, art, science, literature, politics, and sport.

 

(3)

Providing inclusive and diverse information about sex, gender, and sexuality in biology, health, and sexual education classes.

 

(4)

Conducting critical media literacy activities that analyze stereotypes related to heteronormativity, homophobia, sexism, and transphobia in popular culture.

 
Although teachers and support staff have a significant impact on school climate, without the participation of the student body, a true shift in culture and behavior cannot take place.
7.3.3

Students

Students comprise the largest percentage of a school community and are the trend-setters for what is valued in school. Without the support and investment of student leaders, there will continue to be student-only spaces where incidents of discrimination and harassment take place such as locker areas, washrooms, and areas in playgrounds and athletics fields. Schools that successfully engage student leaders, such as athletics team captains, student council members, peer mediators and others, can have a much broader and deeper impact on the lives of all students in school. Ways that this can be done include conducting summer leadership retreats, student discussion groups or weekend workshops that educate students about sexual diversity and solicit their help and support in challenging homophobia, heterosexism, and other forms of bias in the school. In addition to engaging prominent students in the school population, all students should be informed of the school's policies on harassment and discrimination by posting a code of conduct in each classroom, having students sign a behavior contract, and/or by having home-room discussions about the policy, what it means, and how it might affect them.
7.3.4

Families and Community Members

Finally, no school community is complete without the input and influence of families and community members. The parents' association and other community groups should be invited and encouraged to become actively involved in developing the school policy and educational strategies. By developing these partnerships early on, schools can anticipate any resistance or potential backlash and work through these issues before they grow into negative publicity for the school. To be a supportive and inclusive school, it is important to reach out to same-sex parented families to let them know that their input and involvement is welcomed. Gay and lesbian parents may stay closeted or separate from the school community if they have not been given any positive indicators that their family will be valued and included in that community. Most families are deeply invested in the education and development of their children and therefore should be included in such initiatives. Although there might be some resistance to addressing gender and sexual diversity in schools, by building strong ties with parent groups and other community organizations, schools can create a lasting network that will potentially expand their efforts to reduce such bias in the community at large.

Gender and sexual diversity are all around us. By ignoring it, schools cannot make the controversies surrounding it disappear. In many of the legal cases mentioned earlier, ignoring the issues exacerbated and escalated the problems. As educators who are responsible for supporting and teaching the next generation, it is our responsibility to create schools and classrooms that value and teach about the diversity that is already present in our communities. By unlearning the harmful messages from old stereotypes and misinformation, educators have the potential to create and teach more contemporary messages of equality, inclusiveness, and diversity.
7.4

Challenges and Solutions

Although there are many challenges to creating schools that value gender and sexual diversity, great progress has been made and this work must continue. The efforts of parents, teachers, administrators and community groups to effect change in their local schools and school districts are the reasons for the proliferation of gay–straight alliances in high schools across the United States and Canada. Grassroots mobilization and the building of local alliances have helped reform school policies and in-service teacher training programs. The leadership of youth confronting extreme instances of sexual and homophobic harassment in their schools has led to important legal precedents that have broad, long-term impacts. For every challenge that you can anticipate or have experienced, there are strong, wise, and passionate educators who have successfully navigated similar obstacles. Four key steps to take in working to address the challenges one might face in working to created schools that value gender and sexual diversity are
(1)

 

(2)

Build foundations for long-term, sustainable change

 

(3)

Identify priorities and strategies

 

(4)

 
The rest of this chapter explores these topics and provides specific advice on how to successfully take each of these steps.
7.4.1

Create Coalitions

An important first step in working to create schools that value gender and sexual diversity is to identify and build relationships with key allies in your school and community. Before engaging in potentially controversial projects, developing the support and building on the wisdom of experienced teachers, administrators, and community groups is essential for long-term success. These allies and coalition members can provide much needed institutional knowledge, experience, insights, and personal and professional support. If you are a teacher, particularly if you are early in your career, it is very important to identify at least one administrator who is supportive of your efforts. This will allow you to understand any concerns that the administration might have and gives them the opportunity to provide you with support in case a controversy or complaint may arise.

In addition to keeping close contact with an ally in your school's administration and by creating a strong network of individuals and organizations who share your vision and goals, you not only gain from their knowledge and their networks, but you are also laying the foundation for long-term and sustainable changes. Building a coalition may seem to create unnecessary delays in taking steps to address these issues; however, it is an important step that can provide personal and professional support throughout the change process. Although it is difficult, it is important to be patient and continue working with others. If you forge ahead alone you may find yourself exhausted and out on a limb without any support. Additionally, although having an inspired and charismatic leader at the core of any coalition is valuable and helpful, it is important to share leadership and cultivate commitment and ownership in the goals of the coalition with others. Many good initiatives have folded when the driving force behind them moves or changes schools; so it is important to share responsibility and ownership of any change effort in order to ensure its long-term success.
7.4.2

Lay Foundations for Long-Term Change

Laying the foundation for long-term change is a second important step in ensuring that your efforts are sustainable. Creating this foundation requires patience as it can be a time-consuming process. For example, if you'd like to see tangible actions follow the addition of "sexual orientation and gender identity/expression" to school harassment and non-discrimination policies, you must work with that long-term solution in mind. One strategy is to quietly add the wording at the last minute of a rewriting of the policy to avoid a protracted public debate of the issue, and then once the policy has passed use that as leverage for adding an education/implementation program. Conversely, it may benefit your community to engage in a more extended debate and reformulation of policy language in order to build more support for the issue and the initiatives that are to follow. For those who are anxious to see immediate change, it can be quite a struggle to balance the need to build public support and a strong coalition along with the desire to see tangible progress toward the main projects of the coalition. Identifying priorities and strategies among members of the coalition can also be a lengthy and difficult process since members come to the process with different perspectives, leadership styles, and immediate needs. This brings us to the third item to consider when identifying challenges and solutions: identifying priorities and strategies.
7.4.3

Identify Priorities and Strategies

When working to transform school cultures, one must have a deep understanding of the realities and issues unique to each school community. Members of a coalition must be well informed about
(1)

members of the school board and their political affiliations

 

(2)

existing school and district policies

 

(3)

current curricular guidelines and expectations,

 

(4)

available local resources for presentations, workshops and in-service activities on gender and sexual diversity

 

(5)

recent efforts and outcomes of related reform efforts in your state or province.

 
A working understanding of these issues will allow you and your allies to identify the priorities that are most pressing and relevant to your local community. There are a few helpful case studies available of local groups working to reform their school policies and how they were able to succeed in their efforts (see Faulkner & Lindsey, 2004; Goldstein et al., 2005; Macgillivray, 2004; Perrotti & Westheimer, 2001). These case studies offer in-depth road maps of the lengthy processes of implementing a local policy change and initiating a statewide educational initiative. These reports offer helpful strategies and insights about how to work creatively through obstacles as well as how to generate public support for a potentially "controversial" policy change. Finally, the most important element of engaging in work to transform school cultures is to sustain your spirit so you can engage in these projects in the long term.
7.4.4

Sustain Your Spirit

Sustaining your spirit can be a challenge if you are faced with resistance from colleagues, employers, community members and even family and friends. If you have made a decision to work to create schools that value gender and sexual diversity it probably means that you are deeply committed to and passionate about these issues. Most activists and educators who choose to work in the area of gender and sexual diversity do so out of necessity: to ensure the safety of a loved one or to protect one's current job. As you may already know, working against the current of established practices and institutional norms can be extremely time-consuming and emotionally draining. Therefore, it is important that you give yourself permission to take a break every now and then and allow yourself to make mistakes and let small issues slide.

In my first teaching job I was counseled to "pick my battles" when I was starting to advocate for issues related to gender equity and homophobia in my school community. I didn't like this advice since I thought that each of these "battles" was important and needed to be addressed. What I learned was that I was doing myself and my students a disservice by tackling every perceived injustice, and it reduced my credibility with my colleagues and administration. I had a hard time prioritizing, and strategizing and letting some issues move to the back burner. What I also learned, and was able to apply in another school, is that I was then able to conserve my energy and focus it more clearly on the issues that I thought would have more far-reaching and long-term impacts. Another way I learned to sustain my spirit was through connecting with like-minded individuals by attending conferences and social gatherings that allowed me to get ideas from others, as well as to feel understood, valued, and supported. Finding and creating these spaces for yourself is important if you want to ensure that you will not burn out and you will be able to continue engaging in such reform efforts beyond a short 1- or 2-year sprint. Lasting change takes time and during that time you need to be sure that you keep your own batteries fully charged so you can stay healthy, focused, and fulfilled as you face the daily challenges of supporting youth through grassroots activism and education reform.
7.5

Conclusion

Addressing issues of gender and sexual diversity in schools is challenging but important work. This book was written to provide current and future educators as well as committed youth workers a deeper and clearer understanding of the multiple interrelated issues that emerge in schools related to gender and sexual diversity. These issues touch very sensitive cultural nerves related to notions of relationships, identity, community, family, and religion. In order to more effectively work to create schools that value gender and sexual diversity, we must inform ourselves and take carefully planned and strategic steps. I hope that the information and resources provided in this book will provide you with the support and information you need to begin or continue working to make schools places where all students feel valued and included, where all families feel recognized and supported, and all professionals can fully express their whole selves. Schools will continue to be places where students, teachers, and families are hurt, isolated, and excluded from learning and fully engaging in their communities until all of these objectives are achieved.

Although the focus of this book has been on gender and sexual diversity it is important to acknowledge that there are many levels of diversity that impact individual's lives and experiences in schools: gender and sexuality are only two. When building coalitions and engaging in further education on diversity issues, it is important to recognize the multiple identities and oppressions that influence our experiences. Schools continue to marginalize individuals on the basis of race, ethnicity, religion, language, disability, and class to name just a few other variables. In order to apply the educational philosophies of democratic education, critical pedagogy, critical multiculturalism, feminist pedagogy, social justice education, anti-oppressive education, and queer pedagogy, these multiple factors must also be addressed. Please keep your mind open and your coalitions strong by working together to make schools better for all. I conclude this book with a list of resources to assist you on this journey. Best of luck and bon courage!
7.6

Resources

The following section provides a list of resources that may be helpful to educators looking to expand their own knowledge of these issues and/or to incorporate issues related to gender and sexual diversity in their classroom teaching. Each resource is given a cost rating (see below) since many of them are free or low in cost. I also provide a brief summary of the resource so you can more readily identify which will be of most help to you and your own school community.

Cost ratings
$ = $50 or less

$$ = $50−$150

$$$ = $150−500

$$$$ = $500 and above
7.6.1

School-Wide Interventions
Copyright information
© Springer Science+Business Media B.V. 2010