Abstract
By way of introduction to the subject of this Volume1 this contribution reviews the effects of the most prominent properties of macromolecules (their enormous length, strong elastic anisotropy in axial and lateral directions and high segmental mobility) and of their characteristic dimensions on the elementary molecular deformation mechanisms of thermoplastic polymers. The competition between these mechanisms has a determinant influence on the different failure modes (crazing, creep, yielding and flow, fracture through crack propagation). The main part is devoted to an analysis of failure in creep. The micro-morphological approach is further developed and compared to criteria derived from visco-elastic theory with representative equations. Small angle X-ray analysis of the formation of fibrillar structures in amorphous polymers SAN and PC identifies three distinct regimes associated to fluid-like behaviour and disentanglement by forced reptation at low and moderate stresses (or high temperatures) and chain-scission dominated craze initiation (at low temperatures and high stresses), respectively. In semi-crystalline polymers similar differences are found: homogeneous creep at high stresses mostly involving the plastic deformation and break-up of crystal lamellae as opposed to the formation of craze-like structures due to the disentanglement of chains at low stresses. This review focuses on the important dual role of molecular mobility, to be at the origin of time-dependent properties of polymer materials, especially of their toughness, and to influence without exception all damage mechanisms which limit the strength and durability of polymer components.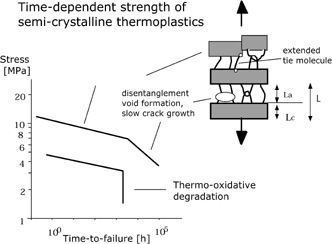 Footnotes
1.

The term This Volume refers to the Special Double Volume "Intrinsic Molecular Mobility and Toughness of Polymers" of the Advances in Polymer Science, Vol. 187 and 188 (2005)
Crazing 
Creep 
Molecular deformation mechanisms 
Disentanglement 
Time-dependent strength 
Toughness 
Abbreviations
C∞

characteristic ratio

DK

equilibrium diameter of a molecular coil

Ea

activation energy

E

Young's modulus

E′′

mechanical loss modulus

E′

mechanical storage modulus

Do

fibril spacing (long period in scattering experiment)

G′′

mechanical loss shear modulus

Go

rubber elastic shear modulus

GId

dynamic energy release rate

J′′

mechanical loss compliance

K,Kc

stress intensity factor

KIc

critical stress intensity factor

KId

dynamic stress intensity factor

Me

entanglement molecular weight

Mw

weight average molecular weight

NA

Avogadro's number

R

molar gas constant

T

absolute temperature

Tg

glass-rubber transition temperature

Tm

melt temperature

U

activation energy

V

activation volume

a

crack length

h

Plank constant

k

Boltzman constant

mol

mole

ν

Poisson's ratio

p

internal pressure

rg

radius of gyration

smax

maximum of scattering vector

tf, tb

time to failure

th

healing time

tanδ

ratio of loss to storage modulus

εa

linear amorphous strain

εt

linear total strain

ϕ

torsion angle about a chemical bond

γ

surface tension

Γ

fibrillation energy

νe

entanglement density

ρ

density

σo

tensile stress

2D

two-dimensional

BPA-PC

bisphenol A polycarbonate

CT

compact tension specimen

DCB

double cantilever beam specimen

DENT

double edge notch tensile specimen

DSC

differential scanning calorimetry

ESIS

European Structural Integrity Society

FNCT

full notch creep test

HDPE

high density polyethylene

iPP

isotactic polypropylene

LEFM

linear elastic fracture mechanics

MDPE

medium density polyethylene

NMR

nuclear magnetic resonance

PC

polycarbonate

PE

polyethylene

PVC

polyvinylchloride

PET

poly(ethylene tere-phthalate)

PMMA

poly(methyl methacrylate)

POM

polyoxymethylene

PS

polystyrene

SAN

styrene acrylonitrile

SCG

slow crack growth

SEN

single edge notch

UHMWPE

ultra high molecular weight polyethylene

U-PVC

unplasticized polyvinylchloride

WLF

Willams, Landel, Ferry
Notes
Acknowledgments
The authors gratefully acknowledge fruitful discussions with M. Fischer, St. Antoni, B. Möginger, Rheinbach, A. Pavan, Milano, C.J.G. Plummer, Lausanne, and A. Rodrigez, Stuttgart.