Investigation of Solid-State Transitions in Linear and Crosslinked Amorphous Polymers
Part of the Advances in Polymer Science book series (POLYMER, volume 187)
Abstract
This paper deals with the determination of the main characteristics and the assignment of the molecular motions leading to the solid-state transitions observed in amorphous polymers at temperatures lower than the glass--rubber transition. First, the specific features of these secondary transitions (β, γ, δ, ...) are briefly described. Then, the behaviour of various polymer systems is analysed: poly(cycloalkyl methacrylates) and their intracycle motions, poly(ethylene tere-phthalate) and bisphenol A polycarbonate β transition and the effect of small molecule antiplasticisers, aryl-alkyl polyamide transitions, the β transition of poly(methyl methacrylate) and its maleimide as well as glutarimide random copolymers. Additionally linear polymers, aryl-aliphatic epoxy systems, with or without antiplasticisers, illustrate the case of crosslinked amorphous polymers. Whereas all the systems considered were investigated by dynamic mechanical measurements and 13C solid-state nuclear magnetic resonance experiments, some systems were also studied by other techniques such as dielectric relaxation and molecular modelling. Poly(methyl methacrylate) and bisphenol A polycarbonate constitute the best examples of the level of description of the molecular motions involved in the β transition and, in particular, the nature and extent of the cooperativity which develops in the high-temperature part of the transition. This is achieved by combining all the experimental and modelling techniques presently available.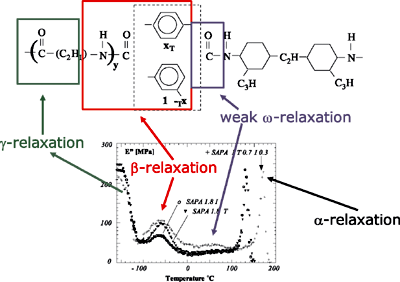 Secondary transitions 
Poly(cycloalkyl methacrylate) 
Poly(ethylene tere-phthalate) 
Bisphenol A polycarbonate 
Aryl-aliphatic polyamide 
Aryl-aliphatic epoxy resins 
Poly(methyl methacrylate) 
Methyl methacrylate-co-N-cyclohexyl maleimide copolymer 
Methyl methacrylate-co-N-methyl glutarimide copolymer 
Notes
Acknowledgments
The authors are greatly indebted to the Ph.D. students D. Bauchiere, F. Beaume, B. Bordes, B. Brule, S. Cukierman, L. Heux, B. Lousteau, L. Teze and P. Tordjeman; to the post-docs P.L. Lee and A.S. Maxwell who have been involved in many of these studies; and to their colleagues S. Choe, G. Davies, J. Schaefer, U. Suter, J. Virlet, I.M. Ward for their fruitful collaboration on various topics. They thank C. Gaillet-Sulpice for her help in producing the figures given in this paper.